PEL

Polyethylene Powder Lined Steel Pipes
(colors: black & blue)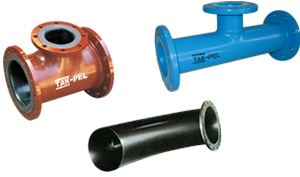 Making effective use of the anti-corrosion properties of polyethylene powder lining technologies
TAK's anti-corrosive pipes offer outstanding quality and economy, and make a major contribution to a range of industries such as electricity, gas, chemicals, water supply and waste water removal.
LP

Hard Vinyl Chloride Lined Steel Pipes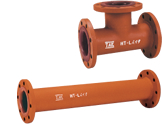 Lining technology that withstands high temperatures.
This heat-resistant unplasticized polyvinyl chloride pipe prevents water quality issues such as red water generated by rust and white-colored water in the pipes.
NC

Nylon Coated Steel Pipes
(colors: blue, gray & white)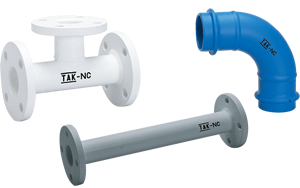 Transporting water more safely and smoothly while remaining kind on the environment.
Ideal for transporting water in situations that require a high level of safety, including domestic water supply and plant internal piping, TAK's anti-corrosive nylon coated steel pipes offer a superior level of function and performance, including greater long-term anti-corrosion performance when carrying seawater.
SUS

Prefabricated Stainless Steel Pipes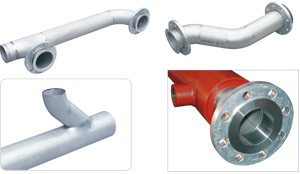 Supporting the environment by making the best use of each material's characteristics.
TAK's prefabricated stainless steel piping addresses the issue of corrosion in pipe material, and is lightweight for easy transportation and working.
SGP

Prefabricated Steel Pipes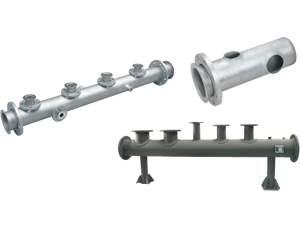 An abundance of experience and know-how allows us to offer the optimum piping systems.
Making the most of out proprietary processing technologies, we at TAK offer prefabricated steel piping made using our environmentally friendly prefabrication methods to ensure a stable level of quality, consideration of the environment and reduced costs.
FRL

"TAK Rotoflon" Fluororesin Lined Steel Pipes
Fluororesin lining gives TAK Rotoflon pipes the heat-resistance, cold-resistance, chemical-resistance, flame-resistance, electrical insulation, low-friction, non-adhesion and weatherability of highly functional plastic. Available in three types: PFA, FEP and ETFE.
SSD/SSD-P

Stainless Steel Ducts
Stainless Steel Poly-ducts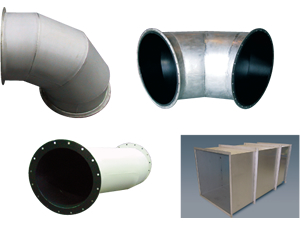 Leveraging our plate working and polyethylene lining technologies, we at TAK are able to offer gas-carrying (exhaust) ducts with superior durability and consideration for the environment.
PU

Polyurethane Coated Steel Pipes for Waterworks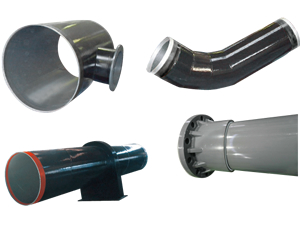 Boasting a sprayed-on outer coat of polyurethane which hardens at normal temperature, these pipes offer outstanding anti-corrosion and shock resistance, and are far kinder to the environment than asphalt-coated steel pipes.
TST60

Flexible Joints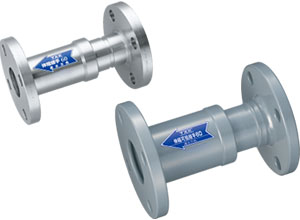 These flexible joints can absorb expansion and retraction of pipes caused by temperature fluctuation, and are extremely useful when it comes to adjusting pipe dimensions or installing and removing devices.
Water Pipe Bridges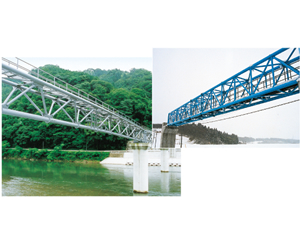 Making delicious water and supporting people's lives today
At TAK, our extensive product line-up and proven track record provide a steadfast foundation for our comprehensive engineering services, which include everything needed to meet all our customer's requirements from site surveying and design, through to manufacture and installation.
Multi-unit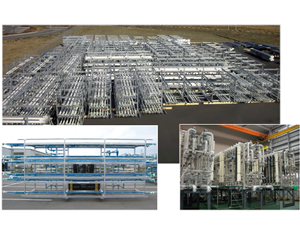 Engineering that lowers both construction time and costs.
Our piping unit systems allow for in-plant assembly. This means all that has to be done on-site is to install the unit, greatly reducing on-site work processes and the overall work period. This also has the additional benefit of increased safety.
Copper Pipe Joints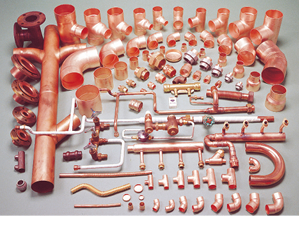 Continuing our spot as the industry's top manufacturer throughout the years, these products are still today the most produced copper fittings in Japan.